"Before 2019, I have found more than twenty poached elephants and several wounded and dying. Since African Parks has taken over, they have not lost a single elephant". Bruce Cronje has been walking and guiding in Matusadona National Park on the southern shore of Lake Kariba for over twenty years and for the first time he is optimistic about the future of the park. That's thanks to the arrival of African Parks, who took over the management of Matusadona in collaboration with the Zimbabwe Parks and Wildlife Management Authority (PWMA) in 2019.
The work of African Parks is a positive story in African conservation, and it is a story repeated in other reserves unknown to most safari tourists. In 2000, the organisation was founded as a pan-African park management not-for-profit NGO. Their mission is to manage and rehabilitate national parks, particularly in areas far from the flow of tourist dollars. African Parks operates in countries with challenging pasts (and presents), including Chad, South Sudan, DRC and the Central African Republic, where wildlife habitats are on the brink due to a lack of protection and financial investment.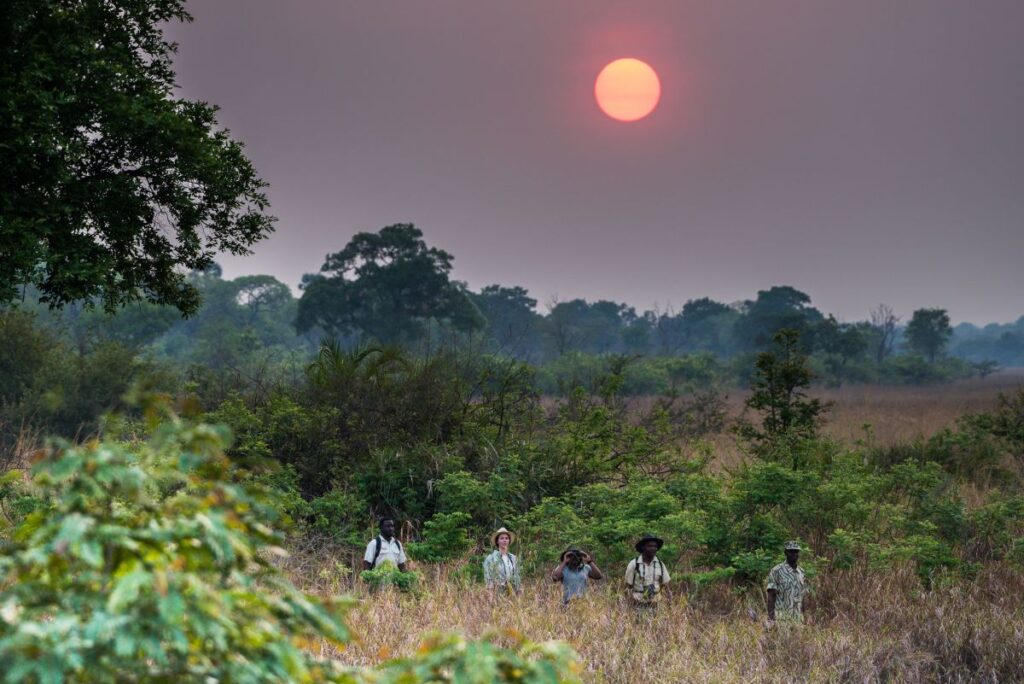 African Parks also manages remote and historically neglected parks in more stable and popular visitor destinations and these are becoming successful in attracting greater numbers of adventurous safari travellers, including walkers. Africa's best-known parks such as Kruger, Serengeti, and Maasai Mara demonstrate the demand for conservation tourism, but they are beyond the capacity to absorb more visitors. A part of African Parks strategy is to divert safari travellers to less visited destinations and spread the revenue to help fund habitat protection. Matusadona in Zimbabwe, Kafue in Zambia and Akagera in Rwanda are all examples of parks managed by African Parks that can tap into existing safari visitor flows.
Walking safaris are a key activity in many of the parks under African Parks management. Dave Wilson, the organisation's Head of Commercial Development, says walking is good for both guests and their parks: "We believe walks offer a unique benefit as they allow visitors to the parks to have a slower and more real holistic wildlife experience in these areas. A guest experience in a park run by African Parks should be immersive and educational – walking provides one of the best ways to immerse oneself in the natural environment."
Rehabilitation of degraded habitat is a multi-decade endeavour, but parks managed by African Parks show positive results in just a few years. We don't have to take their word for it, we can hear from people with long experience of conditions in these areas – Trails Guides such as Bruce Cronje. As well as witnessing the near elimination of elephant poaching in Matusadona, he says there are other positive trends. "There has been a noticeable decline in plastic litter, and the fish population has increased thanks to antipoaching activities on Kariba lake."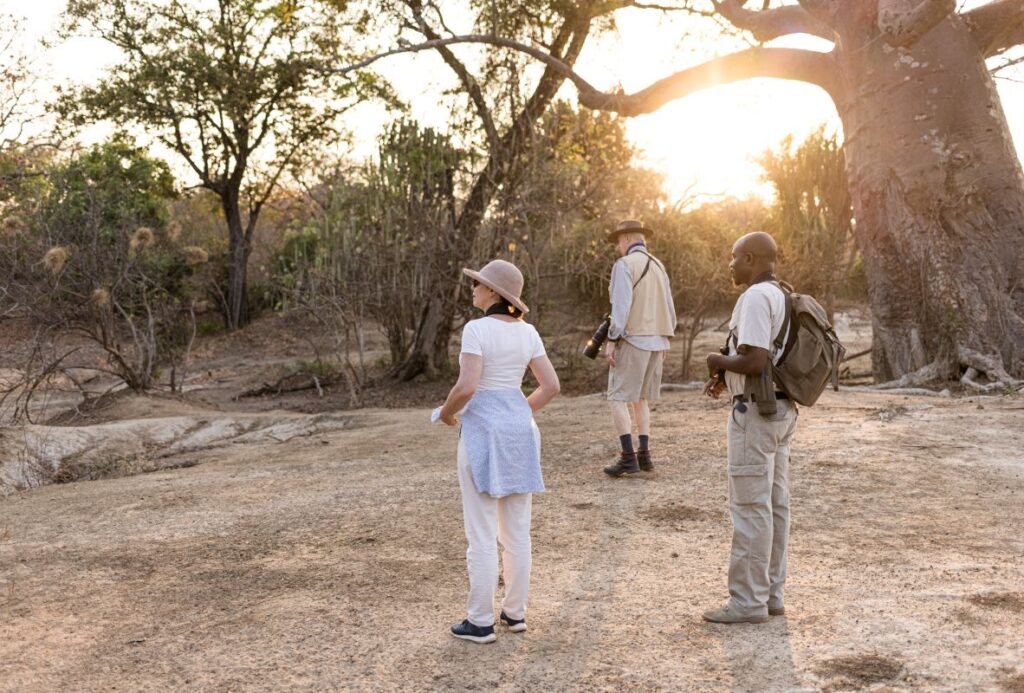 As at Matusadona, we hear a similar story in Malawi where Pam and Chris Badger of Central African Wilderness Safaris have been welcoming walking safari visitors in Liwonde National Park since the 1980s. African Parks arrived in 2015, and the Badgers are encouraged by the changes they have seen in recent years. Chris says, "It's on an upward curve after so many years of struggle. We have cheetah, lion and black rhino all reintroduced, and these iconic animals attract visitors. It's heart-warming to see their tracks here again when we walk".
Next door, Zambia has long been a stable and attractive safari destination, but visitors have tended to confine themselves to the famous destinations in the Zambezi and Luangwa valleys. The enormous western parks are literally off the beaten track, but are becoming successful fly-in destinations for intrepid wildlife lovers. Kafue National Park is the most recent addition to the African Parks list, having signed in 2022 and Green Safaris, Nanzhila Plains Camp and Mukambi operate walks there. First protected in 1880, the park is a perfect lion habitat and has many antelope species.
Even more remote, Liuwa Plain National Park was one of the first parks to sign up with African Parks in 2003. Glenn Evans, Zambia General Manager for Time+Tide says "What we encounter on walks today versus five years ago is astonishing. African Parks have helped to create an abundant ecosystem where wildlife is thriving. Liuwa Plain now rivals all of those in Zambia, and this is partly thanks to the incredible work African Parks have done over the years to help conserve this wilderness."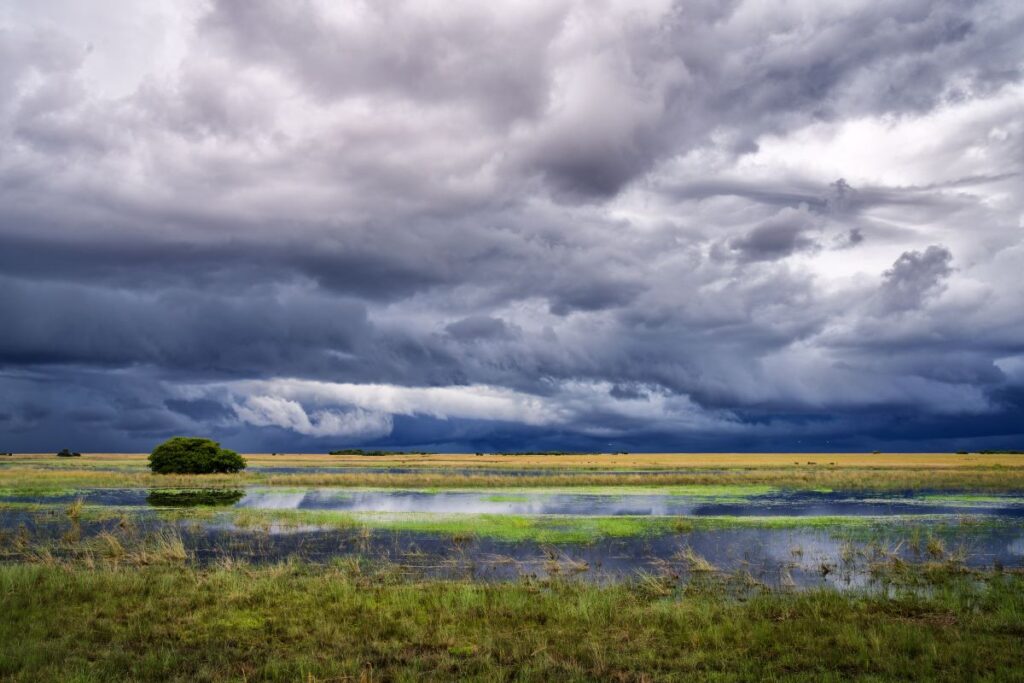 For African Parks, encouraging the safari operators in their parks to offer walks is a good place to start. "It is low impact and does not require a lot of new and expensive infrastructure", says Wilson, "and we'll continue promoting walking, investing in guide training and encouraging our tourism partners to offer this activity".
Walks in themselves will always be a niche activity, but they tend to attract the most committed type of visitor, those who understand the challenges of habitat rehabilitation. Take Akagera National Park in Rwanda, which has been transformed since African Parks took over management in 2010. In place of a cattle-ravaged landscape, there is now a healthy habitat for black and white rhino, and lions have also been reintroduced. Wayne Te Brake of Lowveld Trails Company has guided backpacking trails in the park for a few years and says that the improved management under African Parks has made Akagera an attractive destination for walking safari tourism. "Walking guests tend to be more experienced safari travellers, and they're not just looking for iconic wildlife", Wayne says. "They are aware that tourism can have a negative impact on some parks and want to know that what they spend contributes to a well-managed park. By choosing to walk when they visit Akagera, visitors can have a deeply rewarding experience with a minimal ecological footprint".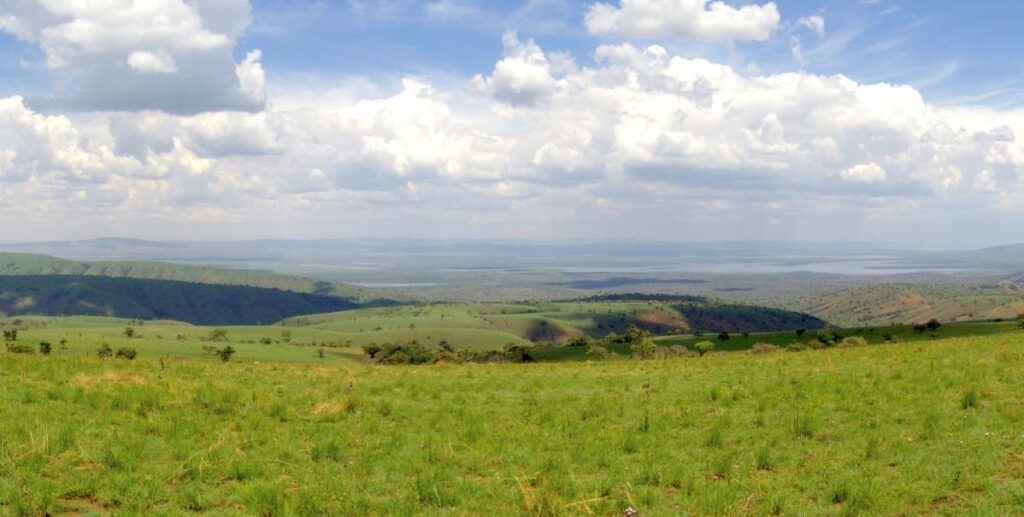 At a time when the dangers of climate change, wildlife crime, and habitat loss dominate the story of nature conservation, it's encouraging that there are parks in Africa that are on a positive trajectory. Safari travellers who want to help support this trend would do well to seek out African Parks venues and spend time on foot.
Enquire about walking safaris in parks operated by African Parks: