The wind in the grass, a sharp impala bark, the chatter of oxpeckers, the bass rumble of a distant lion: this is the background music of a walk in the African wilds. It's an aspect that can be lacking when driving because, even if the engine is turned off, it can be hard for guests to resist a murmur or the lure of the camera trigger. Moving in silence is a key part of the walking safari experience and by enabling us to really listen, it enriches the wilderness experience. We learn to recognise individual bird and animal calls, and decipher their meaning. We engage with nature better when away from the insulation of the vehicle and feel the soothing balm of wilderness immersion.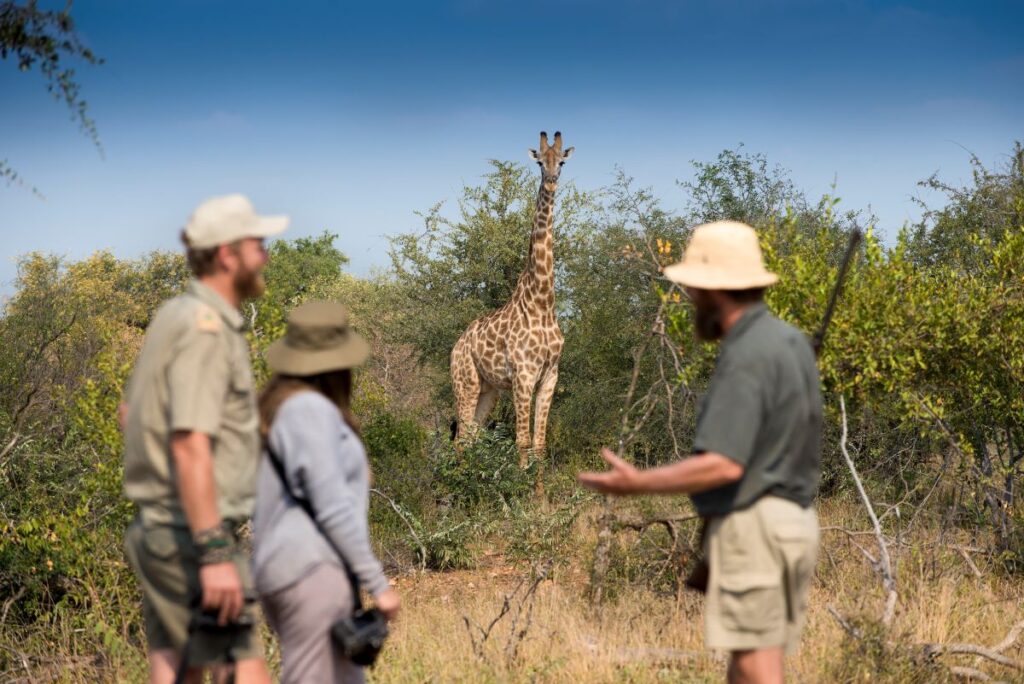 So why don't more people try walking safaris? One reason might be fear of encountering dangerous animals on foot. A short conversation with a Trails Guide will allay that concern, as these highly trained professionals are adept at keeping everyone safe. Another worry might be the physical aspect, doubts about the ability to manage the pace. In fact, most walking safaris are on the gentle side, and it's not unusual to pause every ten minutes or so to investigate a plant, track, bird or beast.
For those who are unsure, a good way to test the experience is to book at a private lodge that has trails guide on staff, which an increasing number have. This makes it easy to tailor the experience to ability – for unsure first-timers, it might be enough to jump down from the vehicle at a good spot and explore a short distance for 30 minutes. In any case, morning walks generally last 2-3 hours and cover 4-6km and guests are back having breakfast before the heat of the day kicks in.
A good choice for an introduction to walking safaris is Makumu Private Game Lodge in Klaserie. We cover Klaserie Private Nature Reserve in Chapter 8 of Walking Safaris of South Africa, highlighting its advantageous location, bounded on almost all sides by unfenced reserves, including the Kruger National Park. Its main geographic feature is the ephemeral Klaserie River and Makumu Lodge is well located in the heart of the reserve overlooking the sandy course of a Klaserie tributary.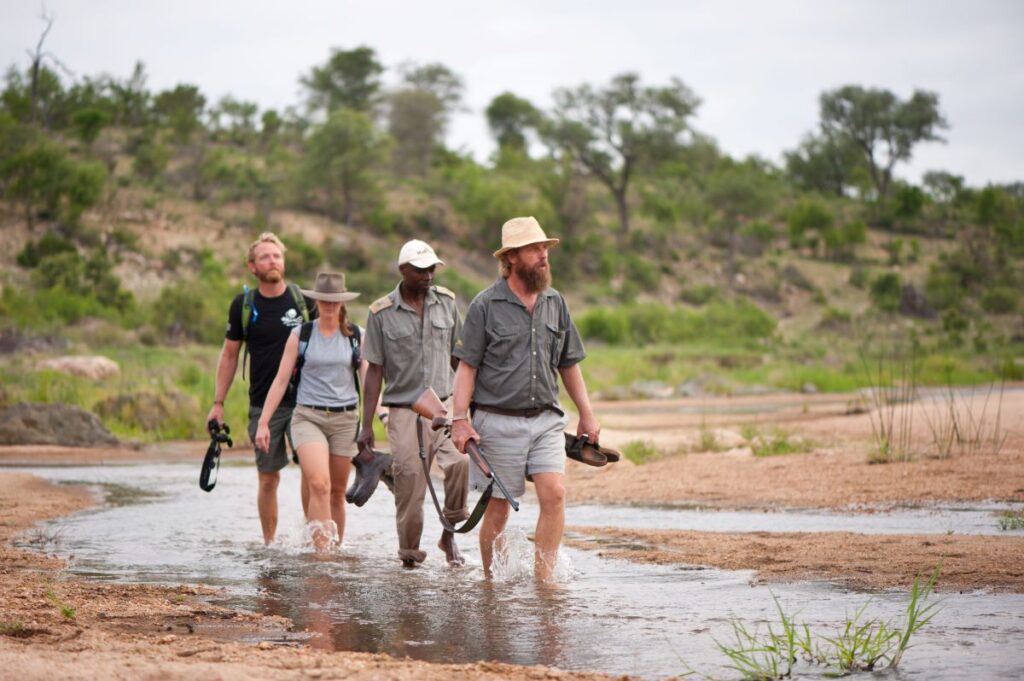 At Makumu, Trails Guides Adrian van Zyl and Ruan Ferreira blend knowledge and experience with the "soft skills" of guiding. This means getting a feel for what walking style will work best for the guests, based on their expectations, prior experience, ability and any special interests. Before setting out they will have a plan in mind for the route and duration, and a mental map of the best spots to take a break. Walking safaris are not an adventure sport, and Adrian says "We don't need to walk fast or far. Some of the best wildlife encounters have happened when we were just sitting quietly under one of the marula trees along the river".
Both Adrian and Ruan are expert trackers, and for those new to walking, tracking seems like a magical art, as the tiniest traces of an animal's passing are deciphered. As well as looking for physical signs, the guides use their ears. Adrian says "Often sound is even more important than sight when tracking predators. The physical tracks tell me what has come this way, but it's the alarm sounds of their prey that give me proximity and direction".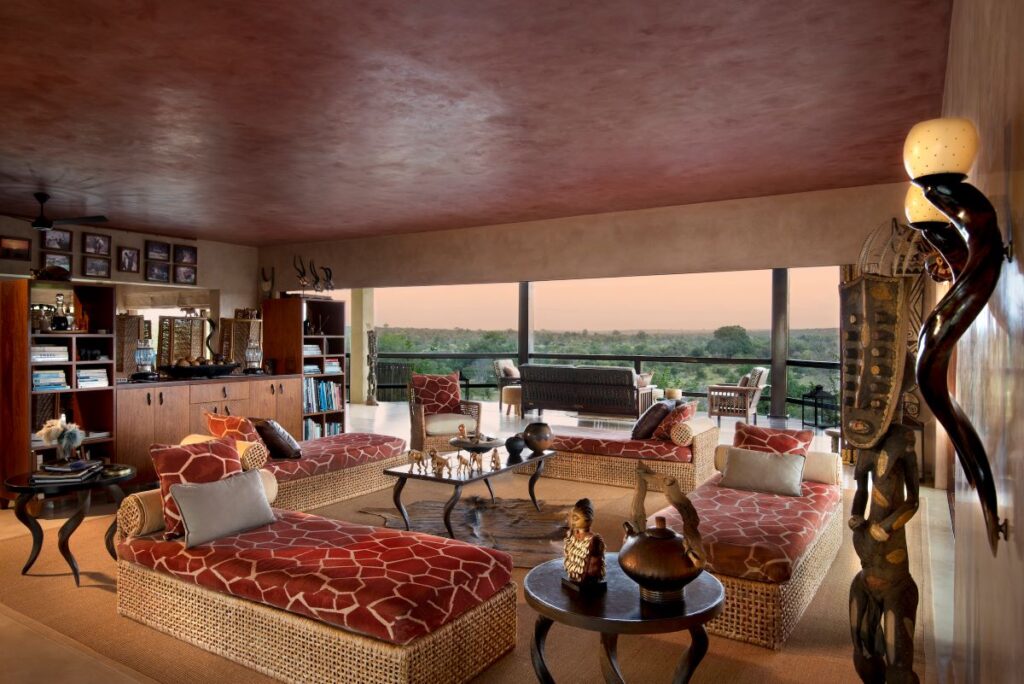 Makumu camp itself has glowing reviews – spacious and beautifully furnished en-suite rooms, and excellent cuisine. The name of the lodge comes from the Xitsonga language: "intangible explanation of an open space, an uncluttered lookout over distant horizons, or endless views". Indeed, evening meals are taken in a "floating" boma with such views to the riverbed and bushveld plains beyond. With just 12 beds, the lodge feels intimate and exclusive. There's a swimming pool and a nearby hide called iThumbela (loosely translated it means "place to hide" in Shangaan), the place to get an ankle-high photo of a wading elephant.
Makumu guests are encouraged to try a walk during the cooler months from April to September. The minimum age is 16, and those over 60 should bring a doctor's certificate of fitness if planning a longer walk.
Enquire about walks at Makumu. Special rates are offered for SA residents.
Photos courtesy Makumu Private Lodge.