Mashatu Game Reserve is a name that makes the heart beat faster for those lucky to have visited. Tucked away in a less-visited corner of Botswana, it features in Walking Safaris of South Africa on the grounds that it is easily accessible for South Africans, via the quiet border crossing of Pont Drift. The reserve has excellent walking territory, a varied terrain of sandstone outcrops, sprinkled with baobabs, candelabra euphorbia, leadwoods and apple leafs.
Mashatu is owned by Steve Lansdown, a UK financier and sports club owner, who admirably kept the reserve fully staffed and financed through the long pandemic lockdown. It has four high-end lodges that offer morning walks, and guests can also book a lodge/fly-camping combo branded as WalkMashatu. There is another way to enjoy the Mashatu experience, as the reserve hosts a new dedicated Nature Training camp, operated by EcoTraining.
EcoTraining's old camp shut down in 2022, and courses were operated temporarily from other camps in the Tuli block, south of Mashatu. In 2023 the new Mashatu camp was established in the heart of the reserve near a koppie called Pitsane. From now, it will be the base for a variety of EcoTraining courses, ranging from 7-day EcoQuest to 7-day Track & Trail to 55-day Field Guide. These are targeted at both professional guides and wildlife enthusiasts.
Located in a scenic valley and close to year-round water, it promises to become a favourite among the portfolio of EcoTraining camps that also span South Africa's Lowveld and the Mara in Kenya. To the west of the camp, the Pitsane River has year round water pools, and to the east the Shashe river forms the border with Zimbabwe.
The camp consists of ten twin dome tents, each with two mattresses with pillows. There are shared bathroom facilities and a central communal area near a fine leadwood. It's off-grid so a generator is available for device charging, and drinking water is from a borehole.
The mixed terrain and tree cover are perfect for walking trails, and in the past EcoTraining have run popular Trails Guide training courses split between their camp in Makuleke (northern Kruger) and Mashatu, and it is anticipated that dates will be schedule for Mashatu during the 2024 season.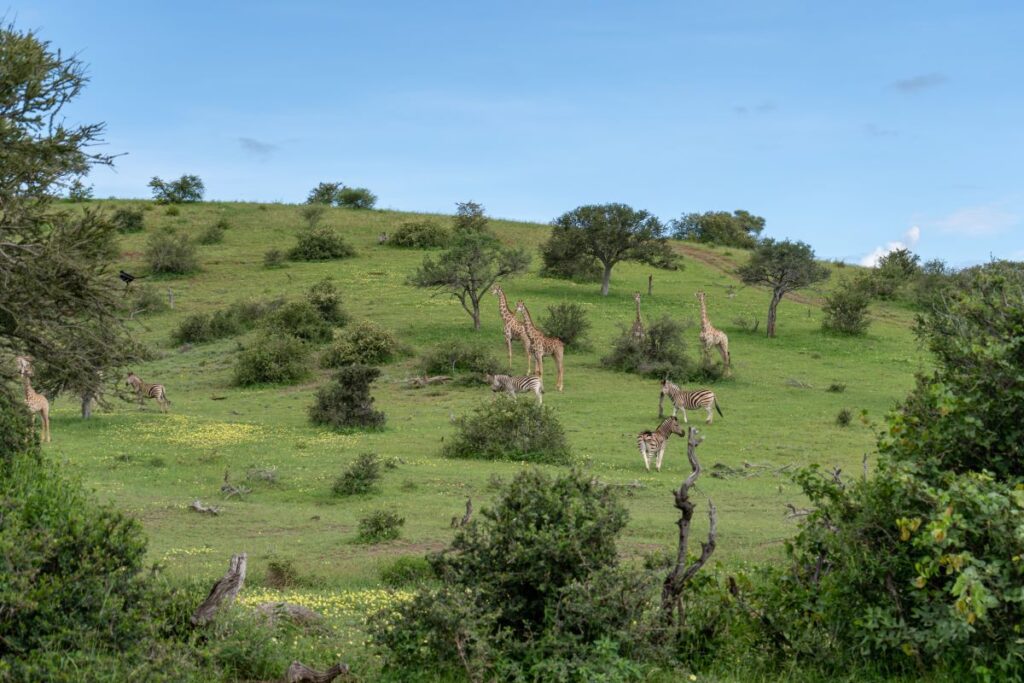 Flights to Mashatu are charter only. The Pont Drift border crossing is about 6 hours drive from Gauteng. When the Limpopo is low the crossing is via a sandy riverbed (strictly 4×4) and when there's water a cable car is used. Guest cars can be safely parked on the South African side. It's another hour by game viewing vehicle from the border to the EcoTraining camp.
The area can be combined with a visit to Mapungubwe National Park, which is UNESCO listed both for its cultural history and its nature. SANParks operate a number of camps and guided walks – see Walking Safaris of South Africa for more details.